Sunroom Builders in the Greater Grand Rapids Area
Imagine an outdoor space where you can enjoy nature's beauty all year round, undisturbed by bugs, unpredictable weather, or harsh sunlight – this is the magic of a sunroom! 
At Precision Decks, we bring over 30 years of expertise in building sunrooms to the greater Grand Rapids area. You can trust us to build a sunroom that is visually stunning, durable, and perfectly designed for your family. Get ready to discover a whole new level of comfort!
A sunroom is essentially an enclosed porch. Unlike a standard porch that is open to the elements, a sunroom is enclosed with walls and windows, shielding you from the elements while still offering some exposure to the outdoors.
Sunrooms Are The Ultimate Comfort
If you're searching for an outdoor living space that combines indoor comfort and the beauty of the outdoors, a sunroom is the perfect solution. Our custom sunrooms provide all the convenience of a typical living room, with ample views and abundant natural light. 
Thanks to their thick insulation, our sunrooms maintain a pleasant temperature throughout the changing seasons. We equip them with sliding windows fitted with screens, which keep unwanted insects out while allowing you to control the breeze and temperature.
We prioritize ensuring all our sunrooms blend seamlessly with your home's aesthetic and architecture. Our goal is not just to add an extension but to create a space that feels like a natural part of your home that has always been there.
Our sunrooms offer: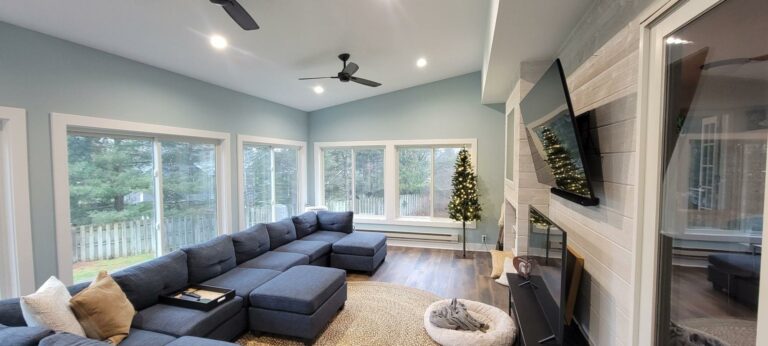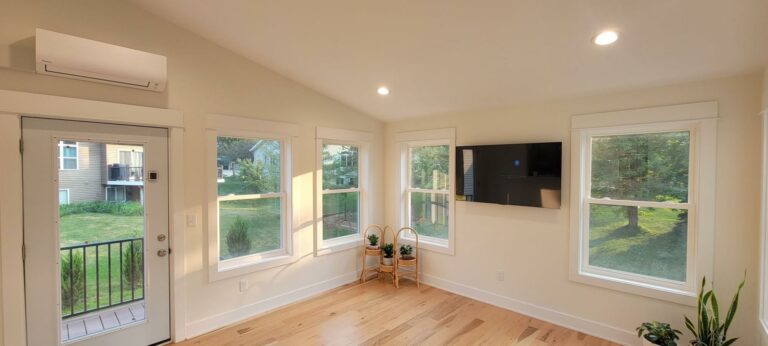 Recognizing the unique preferences and lifestyle needs of each family, we at Precision Decks offer a range of customizable features for your sunroom. For example, we can incorporate air conditioning or heating systems, large-screen TVs, stylish ceiling fans, or a cozy fireplace.
Option to install heating and air conditioning systems for climate control.

Ceiling fans and overhead lighting.

Fireplaces for added warmth.

Entertainment essentials like TVs, sound systems, and other wall-mounted features.