Let's Build Your Dream Patio in the Greater Grand Rapids
Precision Decks is your trusted contractor for all your patio and hardscape needs in the greater Grand Rapids area. We specialize in designing and installing paver patios, concrete patios, walkways, retaining walls, fire pits, and more. 
Whether you want to create the perfect patio for entertaining guests or an elegant landscape with beautiful hardscape features, you can trust Precision Decks to deliver beyond your expectations.
We offer an extensive selection of hardscape materials, including concrete, pavers, brick, and various types of natural stone. Our team of experts can help you choose the one that best fits your aesthetic preferences, maintenance needs, and budget. 
Pavers

Concrete

Brick

Flagstone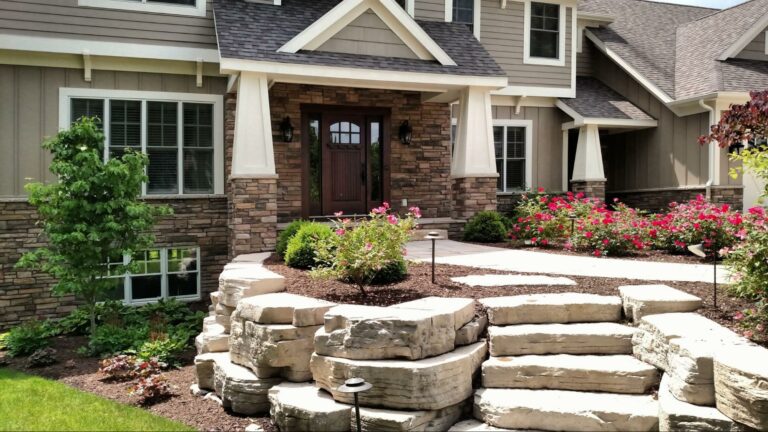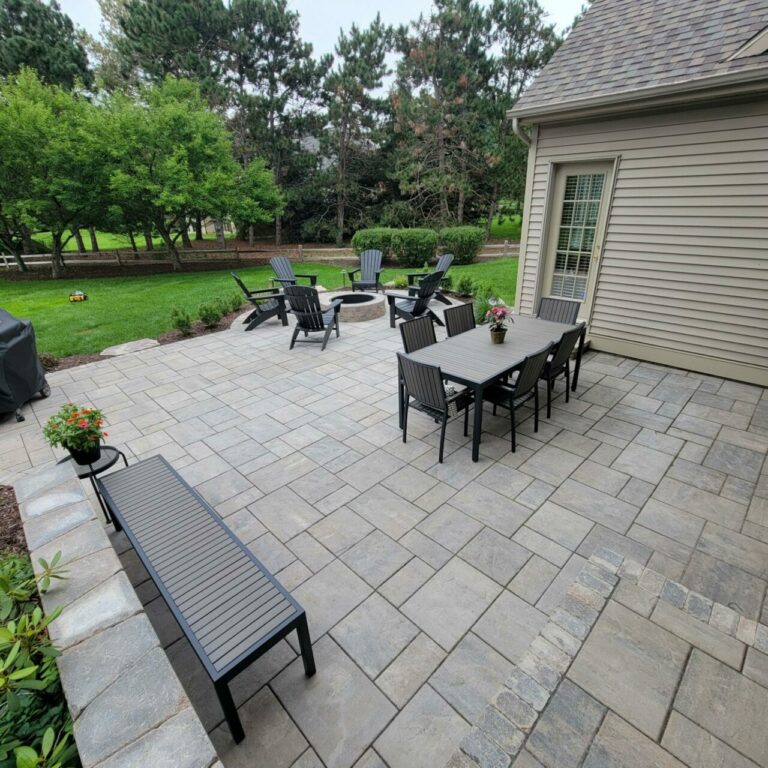 A Luxurious, High-End Material Choice
At Precision Decks, we have built a stellar reputation for installing top-quality paver patios in the greater Grand Rapids area. 
One of the benefits of choosing a paver surface over a concrete one is its durability in the long run. Pavers stand up to heavy foot traffic and harsh weather conditions without developing cracks. More importantly, should any damages occur, they are easy to repair.
Additionally, with a wide range of designs, colors, and shapes available, pavers offer endless customization options, which means your patio can perfectly match your outdoor space and the exterior of your home.  
We highly recommend considering paver patios for their unmatched beauty and ease of maintenance in the long run.
Affordable, Stylish, And Versatile
If you're seeking an affordable yet stylish material for your patio, concrete could be the answer. As a leading concrete contractor in the greater Grand Rapids area, we consider it an underrated material that deserves a lot more credit than it gets!
Aside from being cost-effective, concrete patios offer extensive design versatility. Concrete can mimic the look of pricier materials like natural stone and can be shaped to match any style, like rustic or modern. With the ability to customize its colors and textures, a concrete patio can offer a look that truly stands out.
It's important to note that a slight drawback to a concrete patio is its potential to crack over time. Despite this drawback, concrete's cost-effectiveness and versatility make it an option worth considering.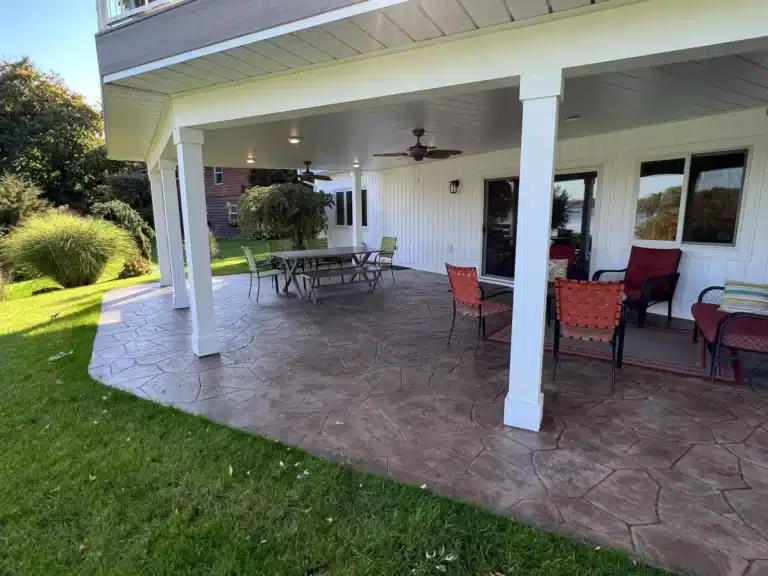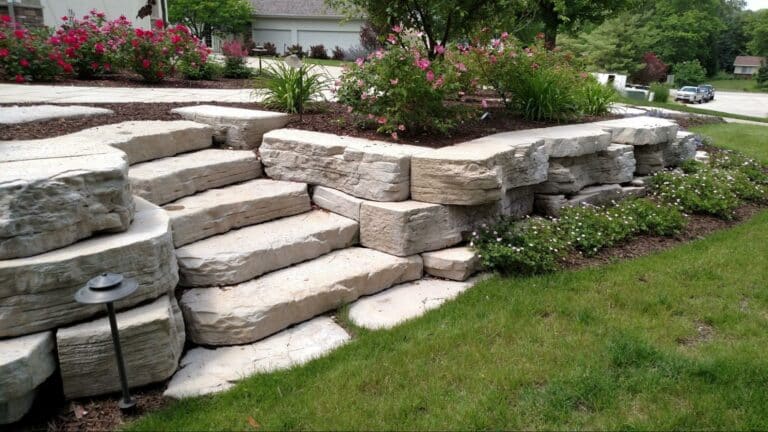 Add Beauty & Connect Different Areas
Give your backyard a beautiful touch and ensure a smooth connection between different areas with our walkways and steps. These additions do more than just keep your feet dry and enhance accessibility. They form a visual pathway that adds depth, structure, and interest to your landscape. Like our patios, our walkways and steps can be built using various hardscape materials, like concrete, pavers, stone, and more.
Protect and Beautify Your Landscape
If your outdoor space has slopes or hilly areas, retaining walls can improve the usability of these spaces. These walls hold back soil, providing a stable and level area in your landscape that can be utilized effectively. What was once an unworkable slope can now become a multi-level garden or a beautiful outdoor seating area.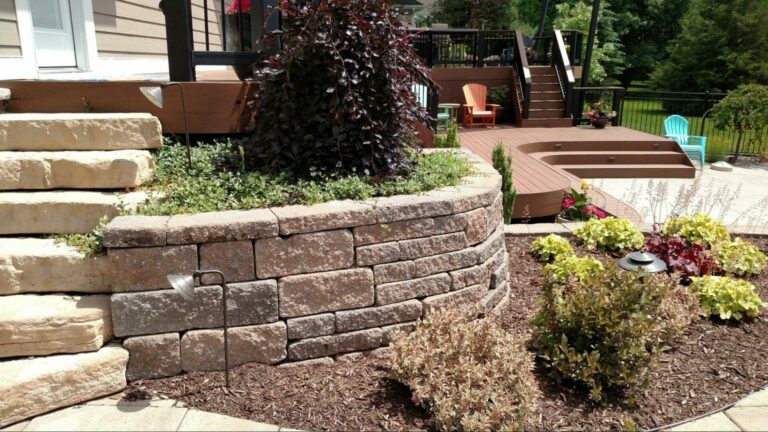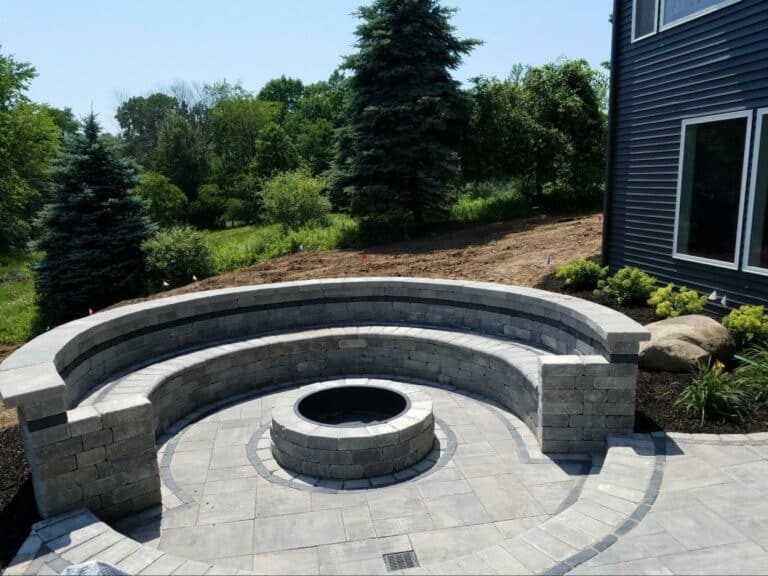 A Warm Addition to Your Grand Rapids Patio
Nothing is more inviting than a fire pit. It's guaranteed to become a go-to gathering spot in your home where memories with family and friends will be made. 
Our fire pits create a cozy spot for your loved ones to gather around, even during the chilliest Michigan evenings. The welcoming glow of the fire pit creates an enchanting setting for storytelling, stargazing, or simply basking in the calming warmth. 
Built-in benches can surround your fire pit, and, like all elements of your fire pit patio, they can be built from the same materials for a seamless look. 
Frequently Asked Questions