What kinds of outdoor living spaces do you build?
At Precision Decks, we specialize in creating custom outdoor living spaces tailored to your needs and lifestyle. This includes designing and constructing decks, patios, porches, and sunrooms. We can also incorporate features such as pergolas and outdoor kitchens, ensuring your outdoor space is fully prepared to accommodate your new lifestyle.
For more information, visit our services.
Does your service include design?
Yes, we are a design-build contractor, which means we handle all aspects of your project, including design and construction. We aim to provide a complete, stress-free experience.
Are you licensed and insured?
Precision Decks is not only licensed and insured but also a top-rated contractor in the community. We've been operating in the Greater Grand Rapids area for over 30 years, and our projects strictly adhere to local building codes and regulations. You can trust us to build a safe, durable, and code-compliant outdoor living space for your family.
How much does building a deck, patio, or porch cost?
Typically, our projects range between $30,000 and $150,000.
The cost of building a deck, patio, or porch is determined by various factors, including the project's size, the complexity of the design, the materials used, and any additional features incorporated into the design. After discussing these details with you, our team can provide a more accurate cost estimate. You can request a free estimate here.
How can I decide on the right design for my outdoor space?
The decision may depend on factors like your lifestyle goals, space availability, budget, landscape, the sun's positioning, and your home's exterior design. Our team will help you navigate these considerations to arrive at the most optimal design.
Regardless, it is beneficial to have an idea of what you're looking for before reaching out to us. If you're not sure where to start, think about your primary goals for the space and any specific features you'd like to have. Perhaps you want your deck to showcase a fantastic view, or you've always dreamed of an outdoor kitchen for hosting events. We encourage you to spend some time looking through our gallery, services, and blog posts. These resources are filled with ideas to help you visualize what you want from your dream outdoor space.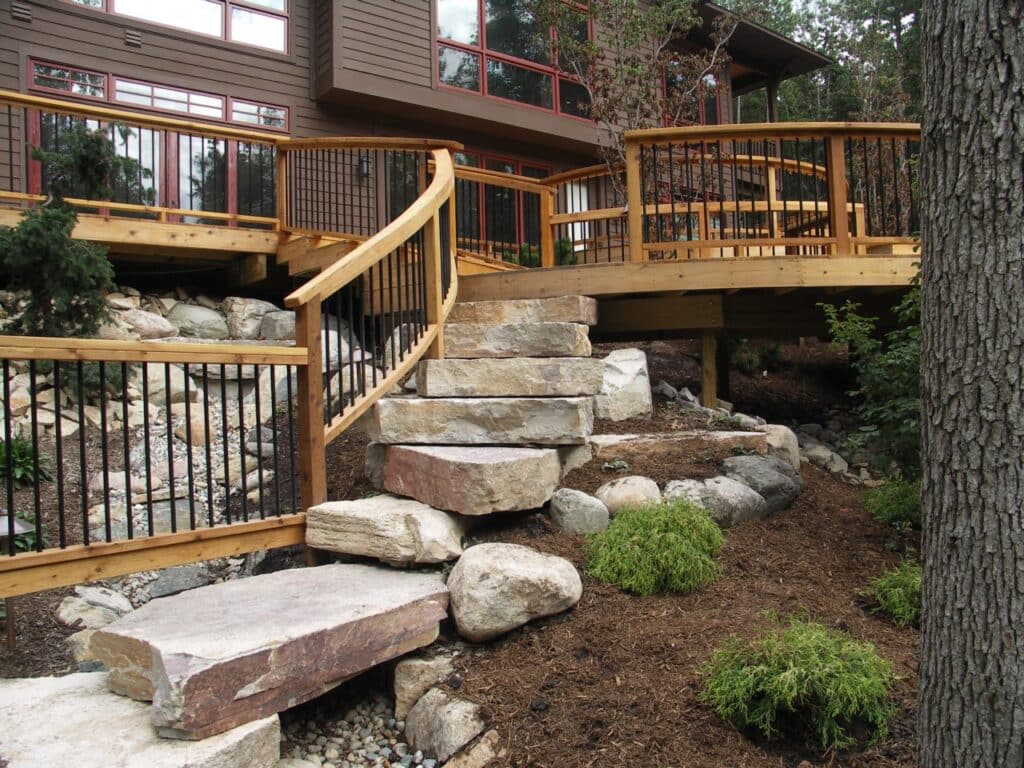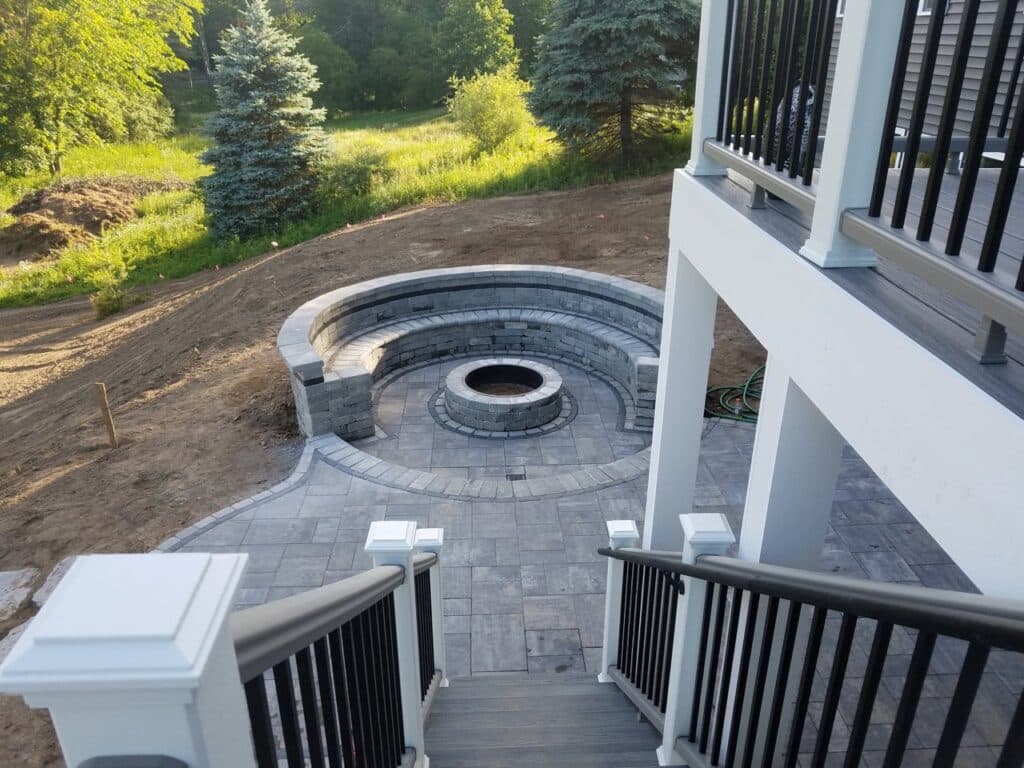 What type of decking materials do you use?
We prefer composite decking materials such as Trex and TimberTech for their weather resistance, ease of maintenance, and long warranties. While we can build with wood, we generally recommend composite decking materials for their superior longevity. 
What is the difference between composite materials and natural wood?
Composite materials are more durable and require less maintenance than natural wood. They also come with longer warranties. Wood decking needs to be periodically sealed or stained to maintain its beauty, and even then, it has a much shorter lifespan.
What is the warranty on the decking materials you use?
We want our customers to feel confident in their investments. The decking materials we use are backed by 25-50-year manufacturer warranties.
Do you build hardscapes like concrete patios, paver walkways, or stone steps?
We certainly do! At Precision Decks, we don't limit ourselves to just decks. We can design and build various hardscapes like patios, walkways, and steps in different materials like concrete, brick, natural stone, pavers, tile, and more.
What areas do you serve around Grand Rapids?
We serve the communities in the greater Grand Rapids area, including Rockford, Ada, Cascade, Grand Rapids Township, and Belmont.
How can I confirm if my location falls within your service area?
To confirm if we can serve your location, please refer to our "Areas of Service" page. There, you will find a map with our primary service area. Note that we only serve the suburbs northeast of Grand Rapids; we do not operate in Grand Rapids City or other urban areas.
Does the distance affect the project timeline and cost?
Distance could potentially affect the timeline and cost due to travel time and transportation logistics, but we make every effort to minimize these impacts.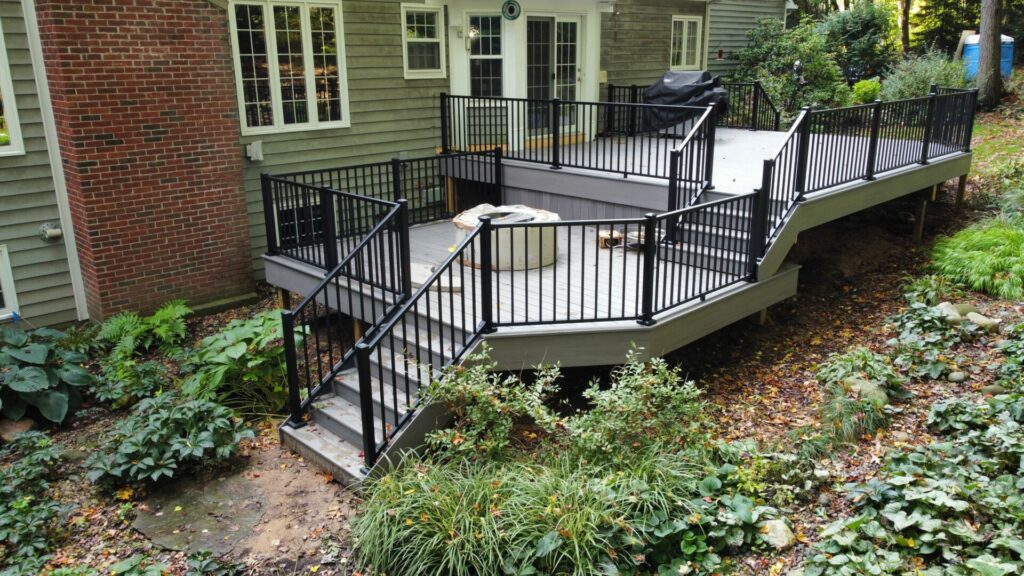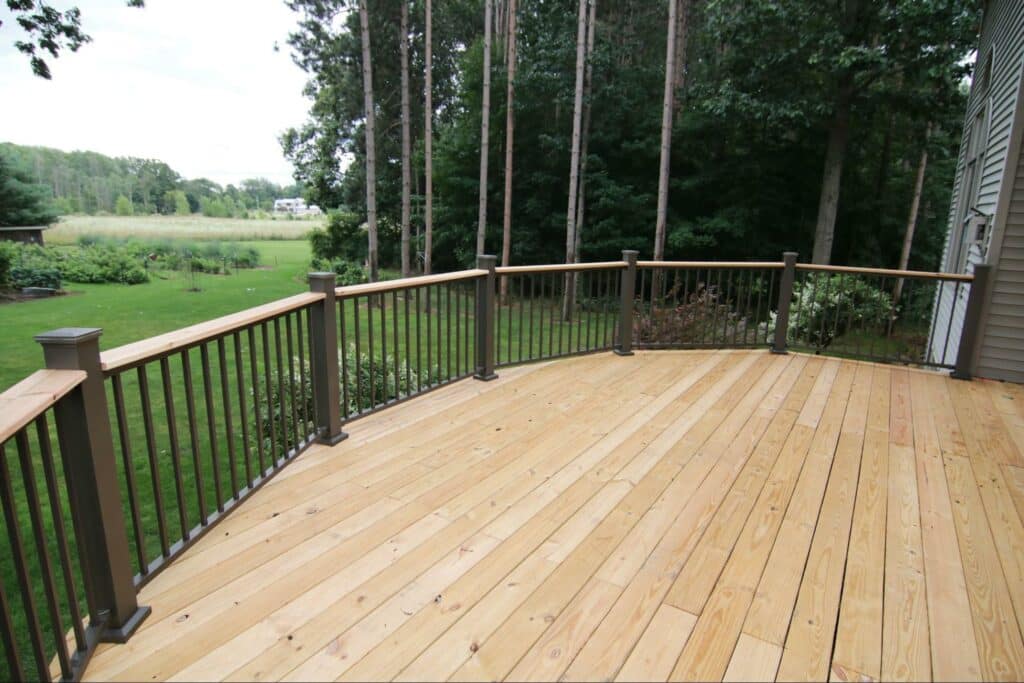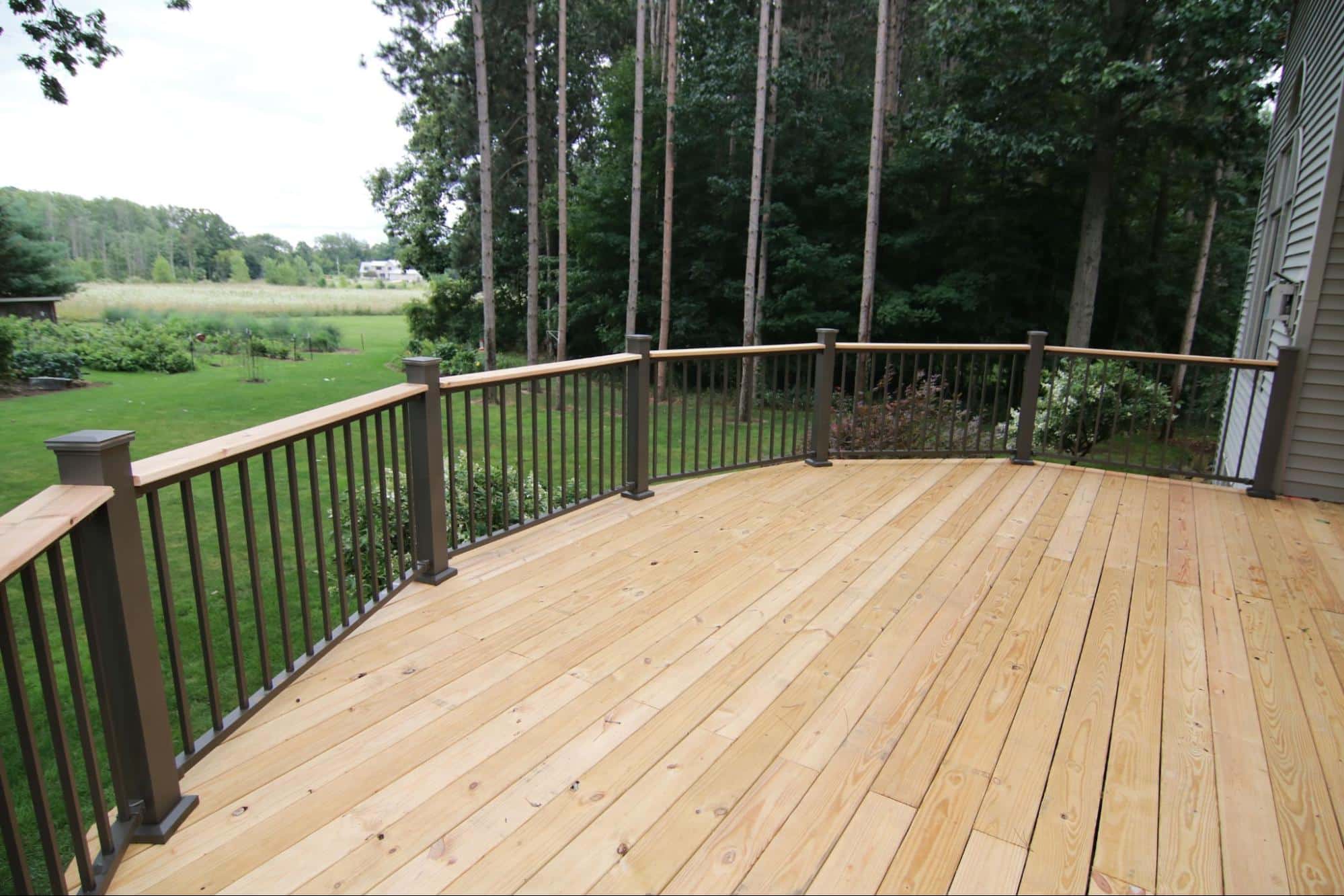 What is your construction process like?
At Precision Decks, we have streamlined our construction process to make it as efficient and straightforward as possible:
The process begins with an initial consultation and estimate, where we discuss your ideal outdoor space and the design elements you want to include. We also assess your property to understand the construction requirements and layout. 

Next comes the design and planning phase, where we create a detailed design and obtain any necessary permits and approvals for the project. 

After this, the construction phase begins, where our in-house team meticulously crafts your outdoor living space according to the agreed plan. 

Finally, we conduct a final walkthrough to ensure you are satisfied with the result.
How long does the construction phase usually take?
The construction period should span between 2-8 weeks, depending on the project's complexity.
Do you handle permits and other legal requirements?
Yes. Handling all necessary permits and approvals is a part of our commitment to ensuring a stress-free construction process for you. Our team deeply understands the building codes and regulations in the communities we serve. We know the permit process can be time-consuming and even daunting for homeowners, so we handle this aspect for you.
Do you provide financing options?
Precision Decks does not directly offer financing. However, we are ready to assist with information on the usual routes our clients use to finance their projects.
What kind of maintenance will my deck need?
Composite decks are low-maintenance. Regular cleaning with soap and water is usually all that is required to maintain their beauty.
What is your warranty policy on labor?
Besides the manufacturer's warranty, we offer a 2-year labor warranty.
Who do I contact for any post-project issues or concerns?
Our team at Precision Decks should be your first point of contact for any post-construction issues or queries. If the need ever arises to make a claim on your manufacturer's warranty, we'll be there to guide you through the process.
How long can I expect my deck to last?
Your composite deck should last around 30-50 years.